Call us today at
1.800.CleanJoe
and start rebuilding your home!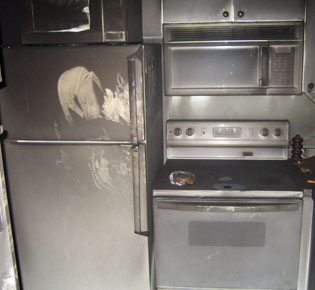 When a fire devastates your home or business, the aftermath of smoke and soot lingering throughout your property could cause even more damage and health related threats. All of your belongings that were present at the time of the fire contain the smell and evidence of these hazardous vapors.
Clean Joe will determine the types of smoke that may have caused damage to your property and alleviate its presence with the most advanced cleaning methods and technology available. After eliminating the source of smoke, odor and soot, our recovery specialists will clean the entire affected structure, including your contents and belongings.
Smoke & Soot Damage Cleanup
We have a large inventory of equipment to help mitigate damage from a fire. Utilizing specialty equipments and products such as Ozone machines, Vaportek machines, Thermo Fogger, Dehumidifiers, Air Movers, Air Scrubbers and Generators will allow us to immediately begin addressing your properties air quality.
Understanding the type of fire and residue produced from it is the first step in creating a plan to restore your property. Whether your property has wet smoke residue, dry smoke, fuel oil soot, fire extinguisher residue, protein residues or any other chemical compound we have the experience to properly clean and disinfect property.
Our Smoke and Soot Restoration Services Include:
Detection and removal of toxic chemicals
Detection and neutralization of noxious gases
Smoke and soot removal and remediation
Odor removal using green hydroxyl generator technology
Contents cleaning, restoration and deodorization including:
books, documents and artwork
electronics
furniture
area rugs
machinery