The Dry Upholstery Cleaning System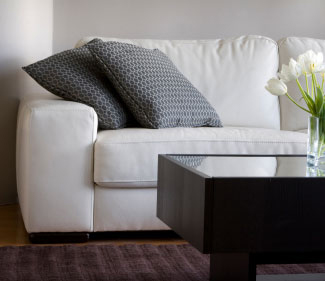 Upholstered furniture uses more varied materials and methods of manufacture than carpet. One cleaning process will not work on all upholstered furniture. Special considerations such as color fastness and dimensional stability of the fabric must be made. Clean Joe will provide the cleaning process that is right for your particular upholstered fabric. Our technicians are fully equipped to properly clean practically any type of fabric. Prior to the actual cleaning, our technician would first carefully inspect the fabric of your upholstery and recommend the proper cleaning technique.
For Clean and Dry Upholstery that Looks It's Best.
Do It Yourself Cleaning
The Beauty of the Aridex Upholstery Cleaning System is that cleaning can be routine and not a special project because with most fabrics, your furniture will be back in service within 30 minutes. This is perfect for cleaning all types of fabrics including velvet, jacquard, weaves, tapestry, brocades and leather.
No over wetting
Never any shrinkage
No sticky residue
Can see results immediately
Easy-to-use
Reduces labor costs
Did you know?

The word upholstery comes from the Middle English word upholder, which referred to a tradesman who held up his goods. Traditional upholstery uses materials like coil springs (post-1850), animal hair (horse, hog and cow), coir, straw and hay, hessians, linen scrims, wadding, etc., and is done by hand, building each layer up.
Cleaning Codes

W: The code "W" means that your furniture should be able to be cleaned with water.
S: The code "S" means that a furniture cleaning solvent can be used on your piece.
SW: The code "SW" means that both water and solvent can be used to clean your furniture.
X: This code means that you should not apply water, and instead should clean it using a soft brush or by taking the upholstery to be dry cleaned.
Simple Solution to Spot Cleaning Stains

Spraying water directly on upholstery can cause a water ring. Do this instead:
1. Start by scraping excess food off with a dull edge.
2. Dampen a microfiber towel by spraying it with water.
3. Using a circular motion, work the towel over the stain towards the center of the stain.
4. Rinse the cloth and repeat as necessary until the stain is removed.