Getting Soot and Smoke Out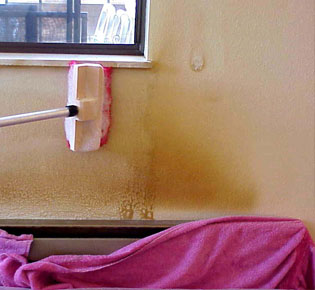 You can minimize further damage by following these guidelines below:
Get the air moving - Open windows to ventilate areas. Install a fan to circulate air. Note: if there has been substantial water damage and the weather is warm, you will probably need to keep the windows shut and run a dehumidifier.
Change your furnance filter daily - Replacing filters until there is no more soot.
Dry wet items as soon as possible - Use fans and dehumidifiers to dry carpets and draperies
Clean Brass and Copper items quickly - Clean the items with brass or copper cleaner as smoke can etch brass or copper in 24 hours.
Smoke odor from textiles/carpeting should be professionally done - Soot is oily and easily stains carpets, draperies and other household textiles. Call Clean Joe at 1.800.CleanJoe to schedule a consultation with our certified experts.
Cleaning soot stains from walls - If possible, use a chemical sponge available from a cleaning supply company or some other non-water-based cleaner to clean soot from walls. Paint thinner or rubbing alcohol may work, but use with caution because of toxicity and fumes. Wear rubber gloves, open all windows and use an electric fan to increase ventilation while working.
Repairing smoke damaged ceilings - Smoke damage causes black marks and discoloration to your walls and ceiling. Soot is the residue left by smoke. Charring is the actual burning of the paint. You should first assess the extent of the damage and determine whether cleaning is a reasonable option. It may be impossible to clean heavy soot and charring from flat-painted walls, and priming and re-painting may be your only option. There is more hope for satin or semi-gloss finishes, if the charring hasn't gone too deep.
Removing smoke odor from the home - During a fire, smoke can permeate walls and other surfaces and drift through household ducts, where it becomes trapped. If not properly removed, smoke odor reoccurs from time to time, especially during warm or damp weather.